Mitch Ballock's A Bluejay!!  All Right Mitch.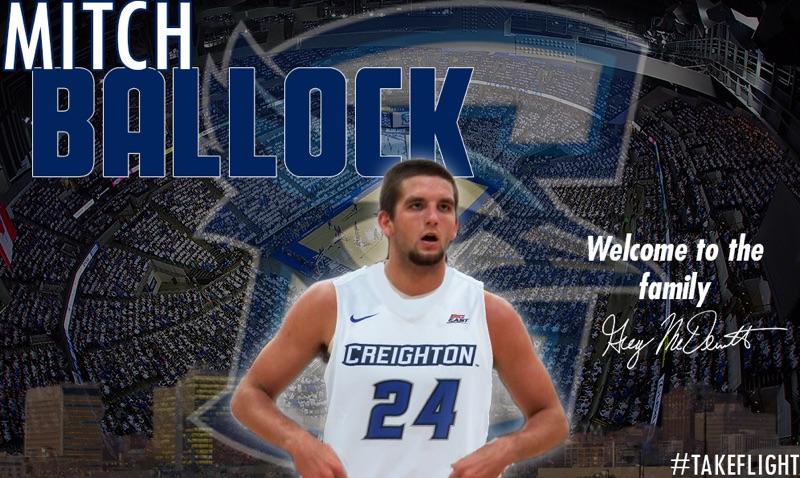 Up next:   @5Tyshon
Ty-Shon Alexander
---
The Creighton Bluejays are a near consensus pick in the majority of preseason polls, including Sports Illustrated's poll.  However, there seems a disconnect within the SI teams' opinion of the Bluejays…
Sports Illustrated is Rollin':
Seth Davis calls the Jays and the Big East midmajors…which was Quickly retracted from Twitter…and the online article.
http://www.bigeastcoastbias.com/2016/11/9/13575284/sports-illustrated-calls-creighton-a-mid-major
SI has Jays 21st in their TOP 351 team countdown, but then predicts Jays in 4-way tie for 3rd place with a 10-8 conf record. Geez SI…are the Jays a top team or not?
Projected Order of Finish
(Projected conference record in parentheses. The tiebreaker for teams with identical records is their standing in SI's 1-351 national rankings, which will be revealed in early November.)Conference Rank Team Proj. Conf. Record '15-16 Conf. Record
1 Villanova 14–4 16–2
2 Xavier 12–6 14–4
3 Creighton 10–8 9–9
4 Butler 10–8 10–8
5 Seton Hall 10–8 12–6
6 Georgetown 10–8 7–11
7 Marquette 9–9 8–10
8 Providence 7–11 10–8
9 St. John's 5–13 1–17
10 DePaul 3–15 3–15
The Skinny on Each Team

3. Creighton (10–8)

Opponents will have a really hard time dealing with Maurice Watson's playmaking and Marcus Foster's scoring on the perimeter, but they'll also have to account for stretchy power forward Cole Huff as well as the guard we project to lead Creighton in offensive efficiency, senior Isaiah Zierden, who connected on 38.5% of his three-point attempts in 2015–16. This is a talented team with a host of proven scoring options.

Name Pos. Class PPG RPG APG ORtg Volume Mins
Maurice Watson Jr. Sr PG 15.6 3.2 6.5 112.6 27% 85%
Marcus Foster Jr SG 14.2 3.4 2.0 111.3 23% 71%
Cole Huff Sr SF 12.6 5.7 0.8 117.9 20% 65%
Isaiah Zierden Sr SG 8.1 2.6 1.8 125.8 15% 60%
Khyri Thomas So SG 7.7 3.9 1.6 110.0 18% 57%
Justin Patton Fr C 6.8 4.4 0.5 106.1 18% 49%
Zach Hanson Sr C 6.3 3.3 0.2 120.2 19% 36%
They need to get their act together. A bit of prior collaboration and planning would seem to have been missing here. And Seth Davis? Well…he's just being Seth Davis (or Doug Gottlieb, or Jeff Goodman – take your pick)!
If the 21st best team in the nation (in their reckoning) can only muster 20-21 W's in the regular season, and a middlin' 10-8 in conference play – 1 of 2 things are happening here.
Sports Illustrated (SI) is attempting to placate folks by having the

Jays

in their Top 25 while their (SI) projections indicate they might not belong in a Top 25 listing. OR
The other pollsters are correct that the

Jays

do belong amongst this years elite and the SI Crew are non-believers hence the conservative SI projections.
The SI crew sound like a segment of our faithful…10-8… lol
Recruiting Visit – Brian "Tugs" Bowen and Family will visit the Hilltop on Friday, the 11th – Sunday, the 13th of November.   Show da Luv, Omaha…show da luv!  B A Bluejay Tugs.
Yo Tugs…  Mitch and Ty-Shon are onboard…Close the deal baby-boy, close the deal and let's git(mo) to the next level, together!  Luv ya Tugs… Be a Creightonian – Be a Bluejay, baby!    Once a Bluejay – Always a Bluejay.