Short on Bigs, the mantel is passed to Epperson.
Whoa Nellie!  Just as the bloom was opening on the 2019-20 hoops season Rose, Martin Krampelj informs us he is staying in the 2019 NBA Draft to pursue his dreams of playing pro basketball.  While not shocking, as it was a 50/50 decision, and many Jays fans were advocating he do so, due to his age and injury history.  The decision has broad impact for the Jays as we were already low on bigs and now have only 2 players taller than 6-7.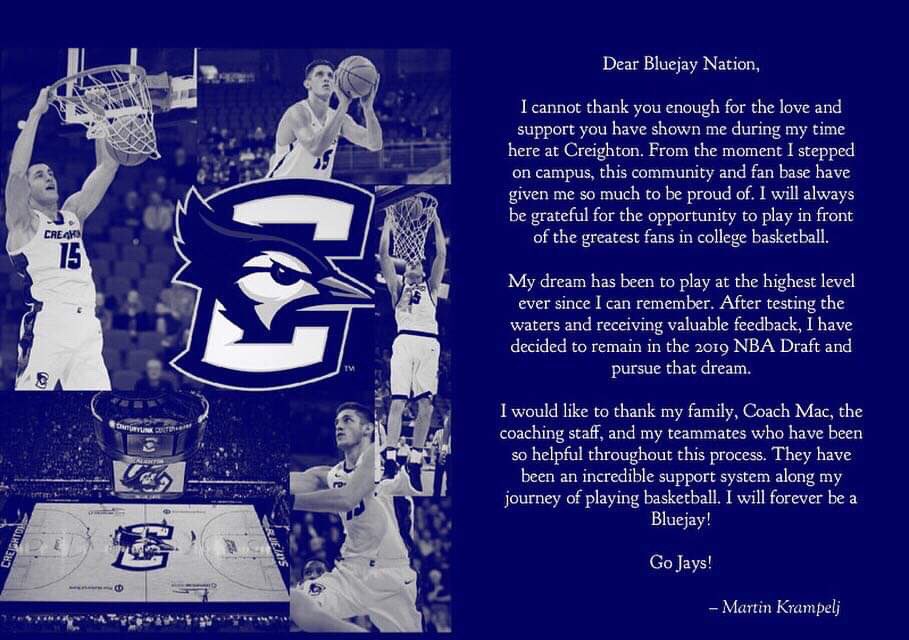 Martin was a valuable player for CU, at 6-9, 235.  He came back from his 3rd ACL injury to hold down the pivot for the Jays. His stats last season were a respectable 13.5 pts, 6.9 rbds, 0.8 ast, with a 59.2 FG%, earning him All-Big East Honorable Mention..  At 24 years of age with a significant injury history, most figured it would be a 50/50 decision.  Many of our folk were of a mind that he should go, as he is healthy with a proven year behind him, and has earned his degree as well.
With this development and the earlier departure of Sam Froling to the Australian NBL, the pivot is the sole possession of junior center Jacob Epperson.  Jacob is very talented, with NBA potentials, and at 6-11, 225 is highly mobile and equipped for the task, but he too has been victim of knee and back injuries.  Jacob played in 12 games his frosh season of 2017-18, coach pulled his RS season due to Krampelj injury.  Averaged 6.3 ppg and 2.9 rpg in 14.0 mpg. Shot 69.4% from the field (49 FGA).  Epperson missed the entire 2018-19 season due to injuries.
Needless to say that Jacob's rebound and recovery from injury, his fitness, and his drive to excel, will go a long way in determining the success of the 2019-20 campaign.  He has the tools.  Now can he knock off the rust and return to frosh form or better?
The other returning big is sophomore forward Chris Bishop, 6-8/205.  Chris received increased PT late in the season and was a big surprise to many with his mobility, hustle, and work around the basket.
Two bigs is not enough, especially given CU's history of injuries to key players.  Needless to say the coaching staff has been beating the bushes for weeks, showing interest in several players.  I have faith that Coach Huss and Coach Lusk will find suitable talent to augment our returnees.  In speaking with Coach Huss a while back, he mentioned two words an old military guy like me can identify with:  Contingency Plans.
At first glance and on the surface the water appears placid and calm, but a current surges beneath outward appearances. Our coaches are working fervently.
Creighton has gained attention and preseason rankings in 8 or so of the multiple preseason polls.  Martin's departure may make a dent in those projections, unless Huss does his recruiting magic.
Stay tuned.
All images courtesy Creighton Athletics.