4-star Marcus Zegarowski's a Jay!
(and the East Coast Connection is bearing fruit.)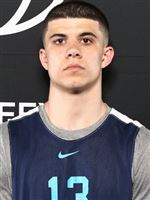 What a surprising Summer it has been thus far for the good coaches, staff, and fans of the Creighton Bluejays.  We received a gift from Missouri as Lee's Summit's SF Chris Bishop surprisingly committed to Creighton on 21 June.  Chris is one of git's "earmarked" recruits for 2018, 4-star status, and tickled me pink with the news.  The very next day the Jays pickup an "out of the blue" surprise transfer student from U of New Mexico in the name of SG/SF Damien Jefferson, from E. Chicago, Indiana – Sit 1, Play 3.
Then… as a belated 4th of July gift, North Carolina 4-star stud PF/C Ian Steere (2018) committed to the Hilltop as of 6 July 2017.
Now…New Hampshire's Tilton School/Expressions Elite AAU gives us a sensational shooting PG and 4-star recruit in Marcus Zegarowski (NERRs #1 player in New England) on 04 September 17, to end the Summer on a high note.
Zegarowski is one of the best shooting point guards in the class, and the school that lands him is getting a reliable guard who can knock down the deep three. I think Creighton has the edge right now since they've been recruiting him the hardest, but don't count out the family ties to Washington. The good news is that fans won't have to wait long for a commitment if he does decide to forego official visits and announce in September.  –  Krysten Peek, Rivals.com
ESPNs Analysis of Marcus… http://insider.espn.com/college-sports/basketball/recruiting/player/evaluation/_/id/224316/marcus-zegarowski
Marcus (Hamilton, MA) is rated 4 Star by Espn (#96) and is Top 150 (#143) for Rivals.  The pickup of Zegarowski is a Major Get by the Jays.  He had cut his list to 4 and Creighton was considered the leader for him. Marcus had stated no official visits, but then officially visited CU on 30-31 August 17.  With his commit the 2018 Class (on 247 Sports) jumps up from 17th to 10th nationally and 1st in the Big East for now.  Rivals – up to class #14 for now.
I expect the Jays 2018 class to stay Top 15, as they may get a 4th commit and/or the numbers ratings on our 3 current commits will improve during the course of their upcoming Senior year.  Ian and Chris will show improvement and Marcus is grossly undervalued (as evidenced by his spring and summer play this year) and will make the biggest gain of our current commits.
http://www.espn.com/blog/ncbrecruiting/on-the-trail/insider/post?id=17551
Again, suddenly-swiftly Marcus tweeted his decision of "I will be attending and playing basketball at Creighton University."  "I have decided to commit to Creighton University," Zegarowski said. "It is the best fit for me and I felt really good on the visit. The coaching staff made me a priority and it's the best decision for my family and me. A couple of nights ago something hit me and I knew that Creighton was the place for me."
Marcus has put the needs of the Jays to bed, as all the perceived holes are filled.  CU picked up a "Z" and a "Ski" with the same billet (always good to have a ski aboard).  We now have the PG of the future onboard and can shoot for the stars with the last (4th) 2018 hoops scholie.
Welcome to the Hilltop Marcus.  Excellent choice of schools.