The regular season has concluded and the Jays took a share of 3rd place, 21-10/10-8 on the year.  The Jays were robbed at home in a 1 point loss to Xavier, beat Villanova at home, and were swept by Marquette.
Creighton played well enough to win the Xavier game and both Marquette games but it was not to be.  I've been pissed and in a funk since the Xavier mugging, but thanks to Hilltop Alum posting several Recruiting updates and lots of discussion surrounding those recruiting candidates I'm back in my optimistic operating zone.  Thanks Hilltop Alum and the gang on the BJU recruiting board (you too TrueBlueJay – thanks).
The 2nd Half…  
"Most of our local board prognosticators have mapped the remaining season to get their predicted 10 or 11 conference wins.  Bluejayundeground posters JayPak and Ictjay have confidently asserted their revised predictions to 9-9 in conference play.  Ever optimistic Section202jay chips in for 10-8:  "I think we'll be 10-8 in Big East play when it's all said and done and get something like a 10 seed in the NCAAT. It is what it is. I would have taken that pre-season.""
They were correct as our guys regressed to the mean, and I was overly optimistic as usual.
Recruiting:
3 or so recruits visited the Villanova game, including 2019 SG Zach Harvey along with (his teammate) CU 2018 commits PG Jett Canfield and SF Chris Bishop.
Canfield and Harvey both went over 1000 points recently at Hayden HS (Topeka, KS).
Several new recruiting names on the BJU recruiting board, thanks to Hilltop Alum.  Check it out.
Jeremiah Robinson-Earl has a new Jr year highlight vid.  Check it out.  https://kansas.247sports.com/Bolt/Junior-Season-Highlights-of-2019-PF-Jeremiah-Robinson-Earl-115924896
2018 Commit, 6-8 SF Chris and the Bishop family did make the Georgetown game.  Always a pleasure to have the Bishops in attendance.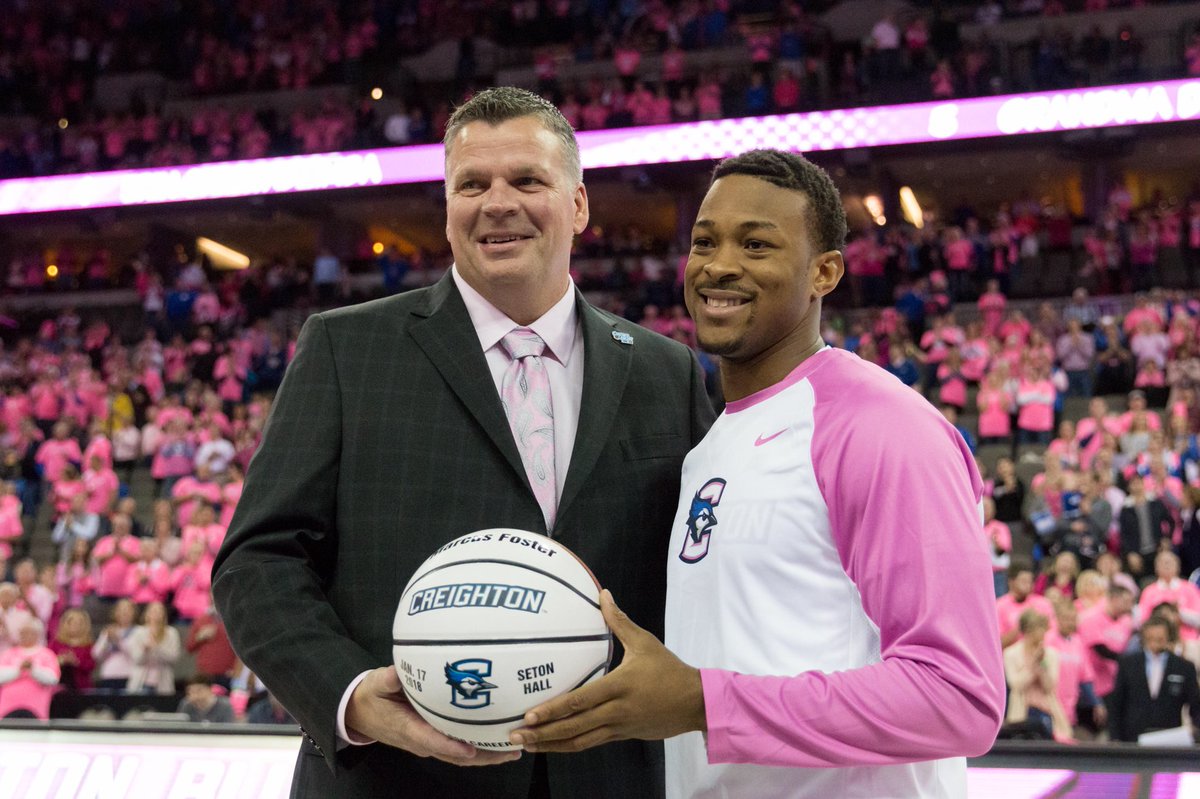 Georgetown game was the Pinkout Game for Cancer.  9th largest crowd in CU History on hand – 18,518 fans.  Go Jays!
PS:  Friendly reminder – I went 25-6/13-5 Big East for the Jays this regular season.  The Jays finished 21-10/10-8.
All our Bluejay sites are busy with articles, previews, postgame video, podcasts, etc.  Check them frequently.
See Jon Nyatawa as he's doing a bangup job.   www.Omaha.com
see both website and Twitter as the Bluejay staff is great.  www.Gocreighton.com
Tom Nemitz & Company  (Polyfro)  www.whiteandbluereview.com
The Bluejay Banter Crew… Tim, Ravi, Alex, and the gang.  http:creighton.rivals.com