Kansas

puts on a Show!

Judge for yourself.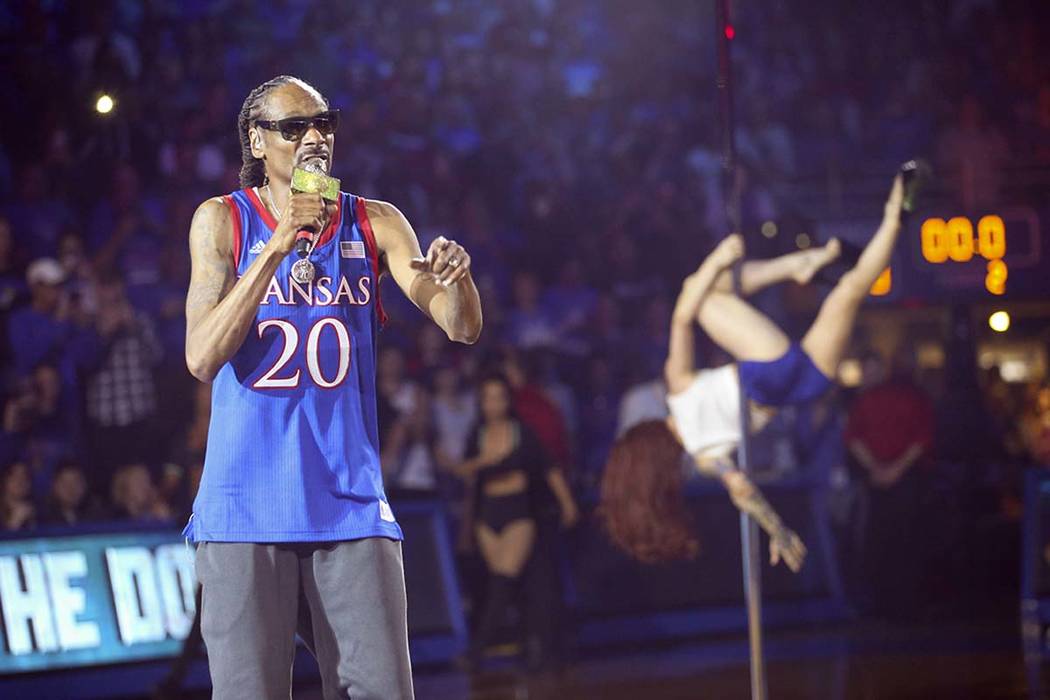 You hire Snoop Dogg to do a show…but expect to get:
G – General Audiences

All ages admitted. Nothing that would offend parents for viewing by children.
yeah, right.
Kansas issued an apology to their fans.
https://www.espn.com/mens-college-basketball/story/_/id/27770289/kansas-apologizes-snoop-dogg-show-late-night-phog
There are many Midnight Madness festivities across the nation.
SI.com  https://www.si.com/college/2019/10/04/midnight-madness-schedule-dates-kentucky-duke
In Lexington, it's "Big Blue Madness"; in Lawrence, it's "Late Night in the Phog." Indiana is home to "Hoosier Hysteria," while other schools opt for celebratory scrimmages or slam dunk contests to introduce their players to their fans and create hype for the upcoming season. Many schools even make the event a part of Homecoming weekend, with entertainment and extravagance at the center of the chaos.

The event has turned into a major recruiting tool as well, with programs competing to secure the attendance of top recruits and pulling out all the stops to impress them. Snoop Dogg will be making an appearance at Allen Fieldhouse this year, while John Legend will perform at Providence's Late Night Madness and T-Pain will be at Marquette Madness.
KU's was one-of-a-kind!
LE –  https://bleacherreport.com/articles/2857259-snoop-dogg-on-kansas-performance-they-invited-me-to-come-do-what-i-do
…And I respect them, and I wasn't gonna put no smut on their name and say they did anything wrong because they invited me to come do what I do. … And when you pay for Snoop Dogg, you're gonna get Snoop Dogg."