Ryan is our sole signee in the Fall 2020 signing period.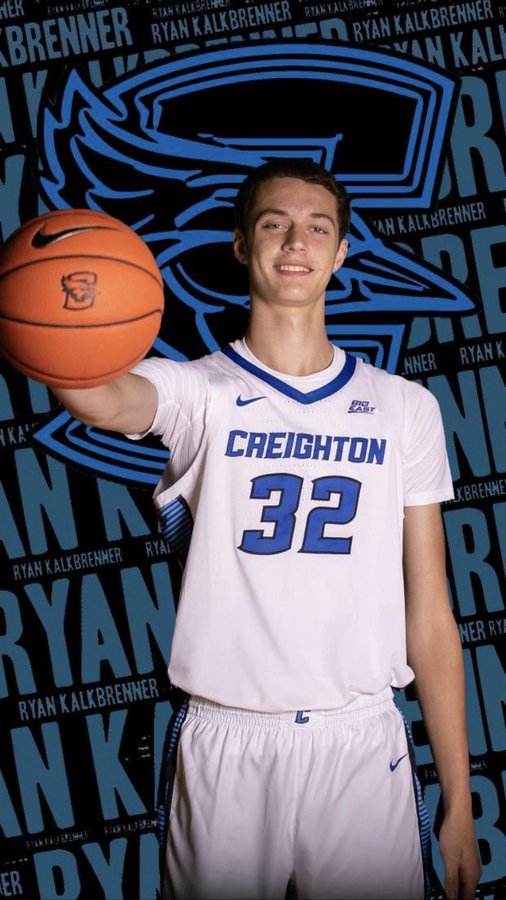 Jays hit one out of the park to start off their 2020 recruiting efforts!  While many fans were seemingly worried that CU wouldn't pull in a top prospect, the staff just continued to keep their nose to the grind and kept working.  Now it is still really early in the 2020 recruiting cycle, but folks were antsy when seeing no early results.  Visions of last recruiting cycle (no top HS recruits) were rampant, with fingers ready to push the panic button.  The staffs hard work bore fruit Sunday night (22 Sep 19) as 247 (composite) top #75 center Ryan Kalkbrenner committed to Creighton.  Rivals.com #69.                          Make no mistake here…           This is a Big Time get!
Young Mr. Kalkbrenner is the Real Deal.  He was the EYBL's Defensive PoY this spring, averaging 4.5 blocks and 8.9 rebounds in 13 games for the Mac Irvin Fire.  He entered EYBL play relatively unknown…13 EYBL games and 58 blocked shots later, Ryan has become well known.
At Trinity Catholic in St. Louis, Ryan averaged 13.9 points and 7.6 rebounds as a high school junior.  He is tapping into his potential and showing major improvement at the perfect time.
Kalkbrenner is becoming a well rounded player.  While known primarily for his defensive acumen, he is a good shooter and is developing his offensive game.  Seems his best days as a hoopster are still ahead of him.
Jerry Meyer/247 Sports:
Has NBA center length as a 7-footer. Possesses good mobility, good hands and feet. Not an explosive athlete and needs to gain strength and build up mass. Not a long-range shooter at this point, but has good shooting touch and shoots a high-free throw percentage. Offensive game is improving as strength and confidence improves. Greatest strength is shot blocking. Blocks shots at a high rate.
Coach Irvin/Mac Irvin Fire_EYBL:
"First of all, he's 7-foot and mobile," Irvin explained. "He can guard a pick and roll, he blocks shots, and he can guard all five positions. He's a very smart defender."

"He never gets in foul trouble," said Irvin.

That notion is backed up by Kalkbrenner's 1.6 personal fouls per game. This has allowed him to constantly be on the floor for the Fire, and their defense has proven to be amongst the league's best when he's manning the backline.

"(Ryan) has been unbelievable on defense," Irvin said.  "He's the best defender I've ever coached."
https://247sports.com/Article/Creighton-Bluejays-basketball-top-75-Ryan-Kalkbrenner-commitment-136002556/
Ryan remarkably grades out higher on 247's ratings than both Justin Patton and Jacob Epperson, although both were numerically ranked higher.  His 0.9698 score makes him the highest rated player for CU since 247.com began such player ratings.
https://basketballrecruiting.rivals.com/news/four-star-ryan-kalkbrenner-picks-creighton
Ryan had accumulated 17 offers, including GT, Illinois, Pitt, Mizzou, VT, Purdue, Stanford, KU, and Cincy, among others.  He visited many schools unofficially, the focus centered early on Illinois, and later on Purdue.  Ryan and family narrowed his official visits to the Jays, Purdue, and Stanford.  Kansas offered on 10 Sept 19, attempting one of their famous late entry swoops to snag a promising recruit.  LOL.  However, the process was too far gone by then and the Kalkbrenner family stayed the course with their final 3.
Creighton, with this committment has addressed their greatest needs, in getting a legit big with defensive chops.  Ryan will fill the holes in rim protection, rebounding, and blocked/altered shots.  He adds much needed depth in the frontcourt for the Jays.  Although not needed on a team constructed like Creighton's, he will develop into another nice offensive weapon also as he fills in his body and gains more strength.
The Jays still have one scholie to give for 2020.  Perhaps a nice Euro PF?  Perhaps SG Kerwin Walton from Minnesota?  We shall see.  For now, the Jays have broken the ice for 2020 and are looking good.  Well done Creighton, well done!
Welcome home Ryan.  You done good in making your best decision.  Looking forward to seeing your exemplary play as a Bluejay!