2nd Half – Stretch Run
We're in the 2nd half of the conference season and the Jays are holding in 3rd place, 17-5/7-3 on the year thus far (includes the win over Georgetown).  The Jays offense has been good and the team is averaging 87.5 (50%, 37% from the 3) ppg on the year.
Creighton faced Georgetown on Saturday, the 27th in Omaha, to begin the 2nd half of conference play.  Jays were favored by 12 and won 85-77.  Creighton has been in and out of the polls and they are currently 30th in the AP, and 26th in the Coaches Poll.  The win this week over #1 Villanova will return the Jays to both polls.
Martin Krampelj went down to a torn ACL at home versus Seton Hall nearly 2 weeks ago.  The team is 2-1 since his injury.  IMO Creighton has enough frontcourt talent to weather this injury with Toby, Ronnie, Manny, and Jacob.  With 3 starters (Marcus, Khyri, and Toby) plus 5-6 remaining veterans, the Jays should hold serve and remain competitive in the 2nd half of the season.  Much like last year they have to weather a significant mid-season injury, but this year it is not as critical as losing Mo Watson in 2016-17.
The 2nd Half…
Through the opening half the Jays have only played Seton Hall, Providence, and St Johns twice.  They completed the series with Georgetown (H) on Saturday, with Xavier (H) on Feb 10th, and @Butler on Feb 20th.  Series start with @Villanova on 01 February and the others as we progress.   The schedule is sort of a pod-like system, playing 4 teams twice, throw in 2 others, before seeing the other 3 teams in a second half of the season pod.  several have noted it seems strange, but it affects all teams similarly.
It's Villanova Week.  The initial game of the series starts @Villanova on 01 February.  Playing at the Wells Fargo Center, a pro venue, and a friendlier confine than the on-campus Pavilion. The Cats are rolling having survived a close contest with Marquette on Sunday.  They are 20-1, #1 in the nation; 7-1 in the BE.   We couldn't have asked for a better setup.   Nova has a long winning streak, good team, playing at home, and on national tv.  Perfect time for them to play Creighton and for the Jays to win on their floor.  Booth is out with an injury, but Gillespie is back in their rotation.  Jays are 2-1 lifetime at the Wells Fargo Center.  1-0 over Villanova at the WFC (Wragge).  With the win we move into 2nd place.  Let the smack talk begin…Khyrifense!
Our guys need to up their game, resolve, and effort a bit.  Play good defense, limit TOs, drive the lane, hit our FTs, and hustle.  Keep the WFC streak alive.  Don't play the Name, play to win…1 game at a time.  #RollJays.
FROSH:
Ty-Shon Alexander and Mitch Ballock are still playing good minutes and are productive, although both have cooled off a bit.
Jacob Epperson saw his first action of the season in the post-Krampelj injury segment.    Jacob's RS was burned at the Georgetown win (CLink Center) on Saturday.  Both he and his folks are okay with his decision.  He received a standing ovation when he entered and also when he 1st scored.   He played well in short minutes (8) and will be eased into longer stints.
Other:
Jordan Scurry was awarded a scholarship for 2017-18.  The late gift was awarded last week.  Congrats Jordan.
Robert Braswell, 2018 PF (6-9/215) is supposed to visit this month.  Diamond in-the-rough, military brat from Blythewood, South Carolina.  Braswell didn't make the visit, yet.
https://247sports.com/player/robert-braswell-46050928
http://www.verbalcommits.com/players/robert-braswell
2018 Commit, 6-8 SF Chris and the Bishop family did make the Georgetown game.  Always a pleasure to have the Bishops in attendance.
BE Player of the Week –  Marcus Foster
Marcus Foster has been named the @BIGEAST Player of the Week for the second time this season. Foster averaged 26.0 points, 7.0 rebounds, 2.5 assists & 1.5 steals in two victories last week. #GoJays#LetItFly#BIGEASThoops

READ MORE

http://gocreighton.com/FosterPOW012918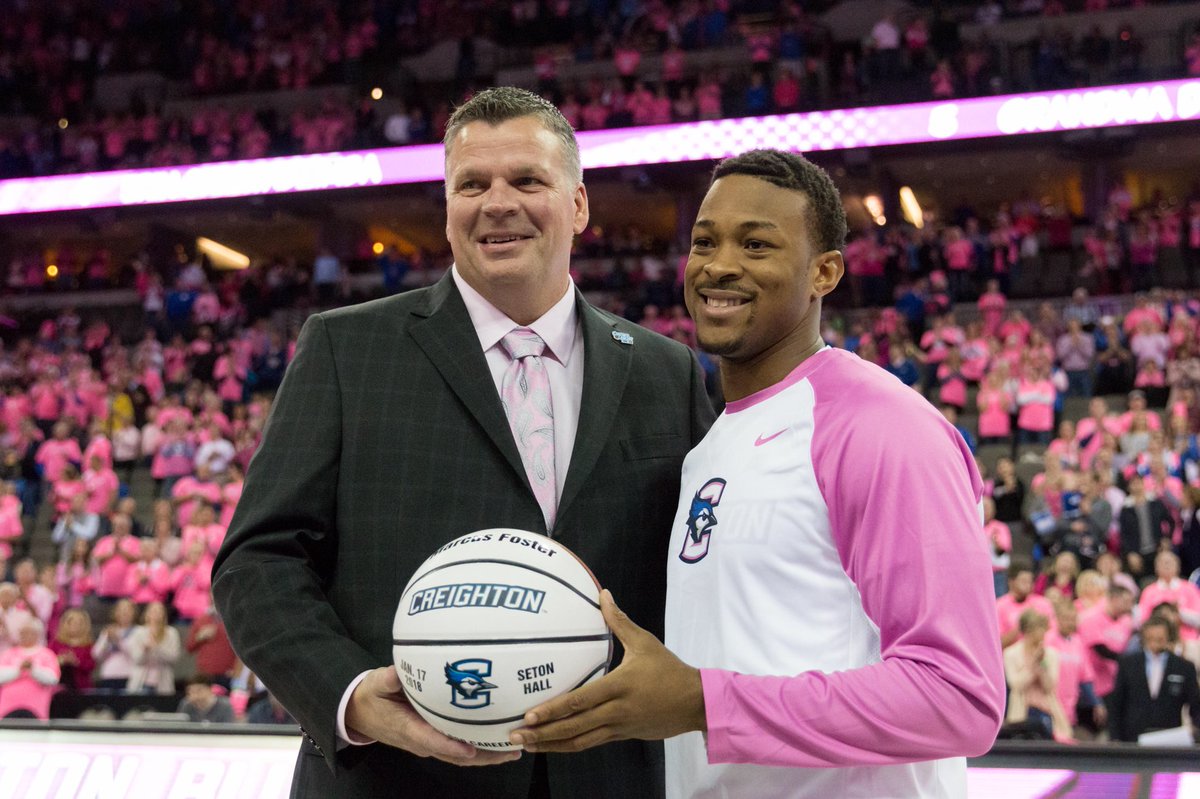 Georgetown game was the Pinkout Game for Cancer.  9th largest crowd in CU History on hand – 18,518 fans.  Go Jays!
PS:  Friendly reminder – I went 25-6/13-5 Big East for the Jays this regular season.   Jays are currently 17-5/7-3 on the season.
Most local board prognosticators have mapped the remaining season to get their predicted 10 or 11 conference wins.  Bluejayundeground posters JayPak and Ictjay have confidently asserted their revised predictions to 9-9 in conference play.  Ever optimistic Section202jay chips in for 10-8:  "I think we'll be 10-8 in Big East play when it's all said and done and get something like a 10 seed in the NCAAT. It is what it is. I would have taken that pre-season."
I had predicted a sweep of The Hall and a split with Marquette and Georgetown.  So allow me to amend my take since we already split with Seton Hall.  Jays make their 13-5 conference tally by splitting with Villanova (road win @ the Wells Fargo Center), split with Marquette, and win the rest.  (7-2) not counting Bemidji State.
In order to meet fan HanddownMandown's (HDMD) 14-4 conference talley, our Jays must win all but 1 of the remaining games – (8-1) which is tough, but possible.
Roll Jays in Philly, a great venue in a great city!
All our Bluejay sites are busy with articles, previews, postgame video, podcasts, etc.  Check them frequently.
See Jon Nyatawa as he's doing a bangup job.   www.Omaha.com
see both website and Twitter as the Bluejay staff is great.  www.Gocreighton.com
Tom Nemitz & Company  (Polyfro)  www.whiteandbluereview.com
The Bluejay Banter Crew… Tim, Ravi, Alex, and the gang.  http:creighton.rivals.com